Minor updates to the dining area have started to happen around here (and I stress minor!)
While the room was functional, it has never felt finished to me so my most recent focus was to try and give the dining area the attention it deserved.
Items to be addressed:
1) Change light fixture to one that's more to scale
2) dining chairs to something more comfortable and in a more updated fabric
3) hang something on that poor empty wall
4) centerpiece for table
Below are the items I've purchased so far.
** UPDATE **
New photos can be found here
** UPDATE **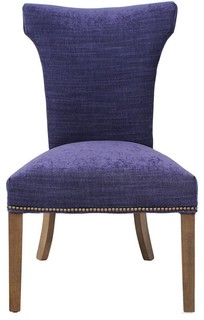 Chairs.
Originally thought I would sew new covers for my existing chairs. Nope.
Decided to take the leap and order new chairs.

Two months later, I just received notice that they have shipped and should arrive any day now!
My chairs will have espresso legs though and I'm not certain if the navy will truly be this blue in person. I waited for 5 swatches to arrive (it took eons!) before I tossed my hands in the air and picked this fabric based on just a photo.
Hubs has a tiny bit of an attachment to the table (regardless of its shortcomings), so I decided to embrace it until it becomes a kitchen or sewing table in an imaginary future house.
Blank Wall in Dining Area
Many ideas were considered - like having a gallery wall of oil portraits on the wall similar to this inspiration photo.
Hubs really did not like that idea, thought he would feel watched for some reason.
No idea why he would have that feeling.
Using sculptural wall art was recommended to me and was seriously considered it when I saw this gorgeous work of glass art.
Mr. Bernard Katz created this work and there is an interesting blog post about it's creation and installation if you want to check it out here.
But I think custom work by Mr. Katz is better suited to my "forever home" since it would likly be a significant investment.
When I set out on a mission to find a piece of art for this wall, it never crossed my mind that the hubs and I would have such different ideas of what we wanted there. I kept showing him abstract art and he continued to see each of them as an ink blot test and would say it looked too much like X or Y, when it would look nothing like that to me.
We negotiated our way to a simple Jackson Pollack inspired painting on canvas. It's rather large, so I may have to move the 2 chairs and a chest currently against that wall (hiding behind table in the top photo).
It's currently at the framers to be stretched and framed and scheduled for installation later this month!
This light fixture was one of the first decisions made for the dining area.
It's installed now and provides so much better light, it's been quite a transformation. And while it is eye catching on it's own, it sort of fades away at the same time.
I even added a dimmer for it (all by myself, thank you very much!).
My friend Steph paid me a huge compliment when she texted how she wished I posted more on my blog, so you can thank her for my nudge to post something current.